the psychogeography of typography
hello. this is a page of links to everything relating to my talk/activity at the 4th world congress of psychogeography 2021.
. . . . . . . . . .
link to the talk [30mins duration. saturday 4th september 2021 3pm]:
https://zoom.us/j/96795544953?pwd=MEVETHdnajNrVFIrdFgrRDVUQjB2dz09
if it asks for a password use: letters
. . . . . . . . . .
instructions for the walk:
this is a self-guided walk based on the themes in the talk, namely lettering in the built environment (but you can probably play if you live somewhere rural too and have an eagle eye). you can take it any time you like.

the 'rules' are simple.
talk a walk looking for letters that will spell the placename of where you are. take one photo for each letter. you must take them in the correct sequence and this will determine where and for how long you walk.
(if you live in RYDE this will be a fairly short stroll. if you're a resident of SUTTON-UNDER-WHITESTONECLIFFE you're going to be out there for a while…)
these don't have to be individual letters in the wild, they can be photographed isolated from the words they form eg. a building name, street sign or shop fascia. aim to seek out letters that you believe might be unique to your locale rather than those you would expect to find all over the world, although if where you live is wholly dominated by signage of national/international brands, that's fine as we're aiming to capture the essence of a place in these photos.

once you've collected the name of your locale in photos of letters, upload them to the 4wcop facebook group [ https://www.facebook.com/groups/175003225975538 ] or the social media of your choice using the hashtags #psychotypography and #4wcop2021

if you want to tag me in (i'm @electric_angel on instagram and twitter, plain on adrian riley on facebook), all the better.
you may wish to offer a few thoughts…
can you look at your pics and think 'yeah, that's a snapshot of this place'?
do they reveal something about the nature of where you live you hadn't previously considered?
did you find yourself taking a route influenced by letters you already knew existed?
did you spot letters you'd never noticed before?

i'll keep an eye out for your posts and can't wait to see your pics and thoughts.

happy psychotypographic wandering!

. . . . . . . . . .
introduction:

expect thoughts on words in the world (particularly my part of the world – scarborough), the town of dewsbury in west yorkshire as a case study in the talk, and an activity you can take part in at the congress (or whenever you like after) by wandering around where you live looking for words.
what does the lettering on buildings, signs, walls, pavements say about where we live? does it define a locations identity and even its destiny? does it influence how we perceive and move about a place? those are some of the questions i'll be throwing a few thoughts at. i'd love to hear yours too.
anyone is welcome to listen in and join in.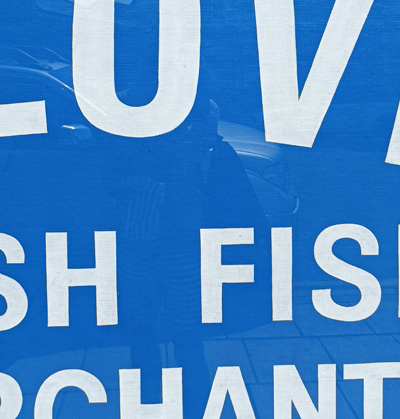 partial self portrait in fishmongers window, filey, north yorkshire
video teasers:
in the run up to WCoP2021 i'm posting a short video each day on instagram to give a taste of some of the sort of themes that might pop up in my talk and activity.

here's an introduction:
psychotypography mini-vlog no.1 'fonts, typefaces, lettering etc' :
here's a few pics of lettering on scarborough seafront following up on the vlog:
psychotypography mini-vlog no.2 'modernism' :
psychotypography mini-vlog no.3 'graffiti' :
and here's some pics from safe ways park, one of the 'legal' graffiti sites in scarborough where i was in the last video:
psychotypography mini-vlog no.4 'liberated letters' :
some pics of them letters what i nicked (aka saved for posterity):
mini-vlog no.5 'road signs' :
. . . . . . . .

about me:
i'm adrian, an artist-designer regularly employed to put words and letters into the world. i have artworks in the public realm in locations such as leeds, york, newcastle, grimsby, sunderland and nottingham. the wesbite you're now on shows a few of those public artworks (i really need to update it!) as well as work from my graphic design practice – the two have a symbiotic relationship.